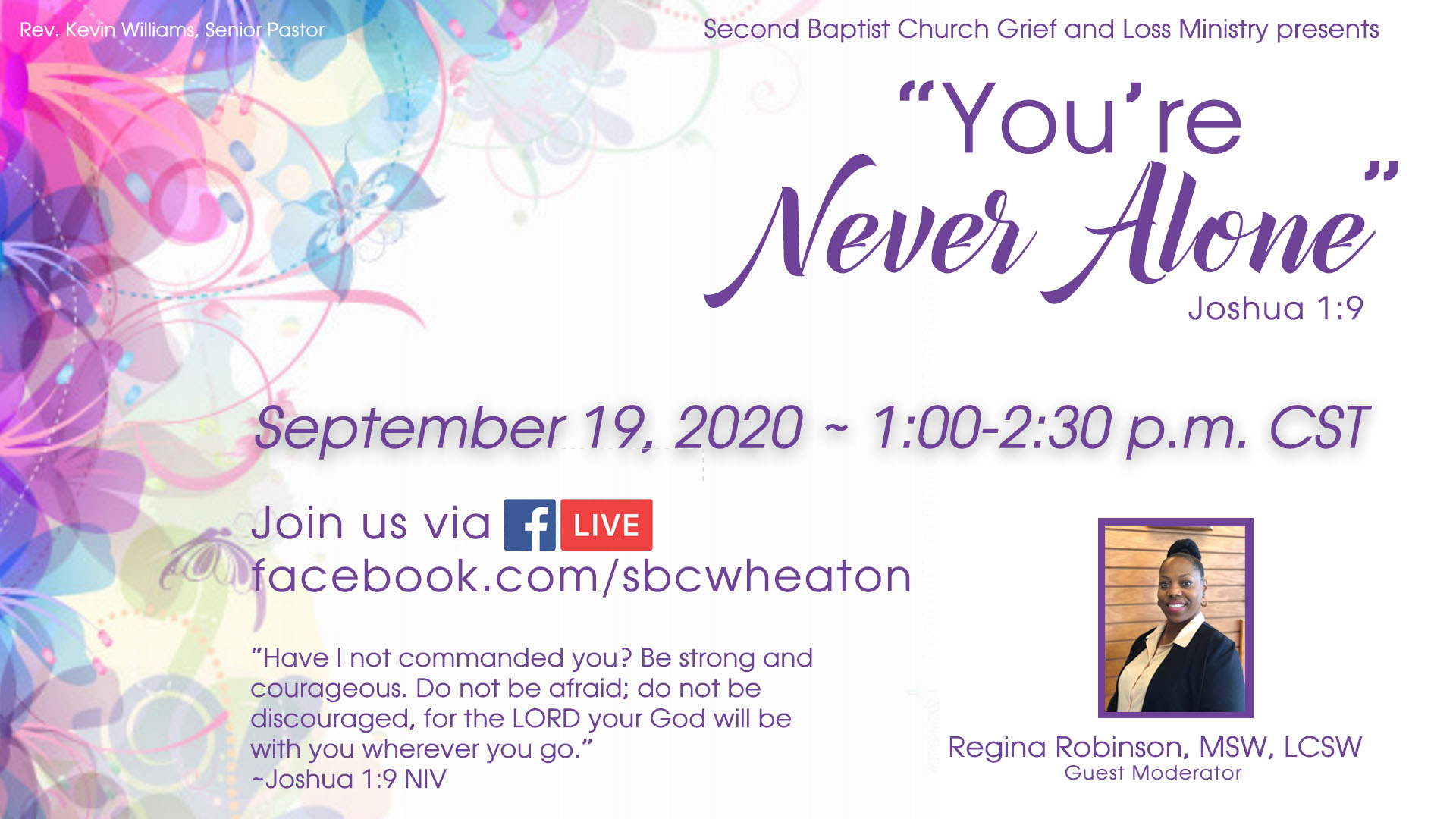 [image_with_animation image_url="7798″ alignment="" animation="Fade In" border_radius="none" box_shadow="none" max_width="100%"]
The link to the replay of "You're Never Alone" Webinar can be found by clicking here.
Scripture: Joshua 1:9 Have I not commanded you? Be strong and courageous. Do not be afraid; do not be discouraged, for the Lord our God will be with you wherever you go. NIV
The Grief & Loss Ministry is sponsoring a Zoom Webinar entitled "You Are Never Alone" Saturday, September 19th at 1:00 p.m. to 2:30 p.m. on Zoom and Facebook Live.
We are experiencing times many of us have never thought possible. The global COVID-19 pandemic, loss of loved ones, social unrest, loss of jobs or change, financial loss, added responsibilities, the closeness of family, friends, and our churchlife. Join us on tomorrow,  Saturday, September 19, to learn coping strategies, ways to manage the 'multi-facet pandemic our community is facing.
Partnering with the Grief and Loss Ministry; Regina Robinson, MSW, LCSW will lead the Webinar. Regina obtained her Bachelor of Science in Social Work from Slippery Rock University of Pennsylvania. Later she earned her Master of Social Work with certification in Child Welfare from the University of Pittsburgh. For over 10 years, she served in her field of passion – Child Welfare and later transitioned into an inpatient behavioral health profession after relocating from Pennsylvania to Illinois. Desiring to grasp a better understanding of barriers that interfered with individual obtaining appropriate and necessary mental health treatment, she ventured into Case Management services with Health Care Service Corporation – Blue Cross Blue Shield. Today, Regina currently serves as a Clinical Case Manager Supervisor for Innovista Health Solutions, a subsidiary company under Health Care Service Corporation.
Please invite friends and family so they may hear strategies to aid in coping and words of encouragement from Regina Robinson and our Grief and Loss Ministry. You will be able to ask questions and receive help for you and your family.