Christian Education
We want to be known as a learning church because we serve a God who invites us to know Him.
SUNDAY SCHOOL
Sunday School is now SATURDAY SCHOOL! | Saturday School conference calls are Saturdays at 9:00 a.m.
DIAL IN: 312-626-6799 | Access Code: 322476888
Fall 2022  God's Exceptional Choice  Unit 3- We Are God's Artwork
A Life-Changing Choice
The final unit of lessons highlights how God continues to choose people for his will. These four lessons explore Paul's teaching to Christians in the city of Ephesus regarding the life-changing nature of God's choice over their lives—and ours.
Paul explained the life-changing nature of God's choice when he wrote that God's people are blessed "For he chose us in him before the creation of the world to be holy and blameless in his sight." (Ephesians 1:4). For God's people, being chosen comes with responsibility. Their actions and choices will be changed in light of God's choice.
God's people must live with obedience and good works in Christ (Ephesians 2:1–10). Evil in the world desires to tear down God's chosen people. Therefore, God's people must prepare (see 6:10–18)!
We can encourage and support other believers through prayer, preaching, teaching, discipleship, and mentoring. God's exceptional choice can never be doubted. He desires that his people live in a manner that reflects his choice. Let us turn our eyes toward that goal.
Lesson 10
   God Picked You!
Paul's letter to the Ephesians has many of the features of his other letters. But unlike the others, Ephesians does not clearly address a problem or issues that arose in a particular church. Rather, it reads as a general reminder and instruction in the nature of the gospel and the Christian life. This is one reason some believe it was a circular letter that was sent to the city of Ephesus (in present-day Turkey) to be read and then shared in the surrounding region
Lesson 11   Christ is Wisdom
Most letters in Paul's time offered a brief word of thanks to whatever god the writer worshipped. Paul followed this practice in most of his letters in the New Testament, praising only the true God. And he used the thanksgiving not just as a formality—part of good letter writing—but as a way to introduce ideas that he would develop later in the letter.
Lesson 12   We Are God's Handiwork
Paul's message to the Ephesians emphasizes a different perspective, the perspective of God. From God's throne, Christians are not downtrodden but victorious. They are not rebels against the community but God's agents of renewal for the world. Despite rejection by neighbors or even those in authority, Christians—then and now—are the grateful recipients of everything God has done. We're already experiencing God's eternal blessings and anticipating a still greater future when Christ returns. We live together as God's temple (Ephesians 2:11–22). And Paul himself, proclaiming the gospel despite his confinement, exemplified what the lives of his audience were truly like (3:1–19).
Lesson 13   God Gives Tools For Our Protection
Having planted churches across the Roman world over the course of more than two decades, the apostle had been arrested in Jerusalem during a riot (Acts 21:26–35). A corrupt governor refused to resolve his case (24:27); so after sitting in jail for two years, Paul appealed to Caesar. This appeal resulted in a trip to Rome to stand trial (25:1–12).
Paul then spent two years under house arrest in Rome, waiting for a hearing before the emperor (Acts 28:30). During this time (about AD 61–63) Paul wrote letters to his churches in cities back east, including the one in Ephesus. Doubtless the circumstances of his arrest and the daily frustrations of his imprisonment led Paul to greater awareness of Satan's schemes and the preparation necessary for defeating them.
BIBLE STUDY
Youth Bible Study| Tuesdays at 6:00 p.m. on Zoom. Login information may be found here.
Adult Bible Study |  Wednesdays at 7:00 p.m. on Zoom. To join virtual Bible Study please visit Zoom.us and enter Meeting ID: 802 973 031  To join by phone, dial 312-626-6799 and enter Meeting ID: 802-973-031

The human acceptance we long for often comes only if we are attractive, smart, wealthy or powerful. And God's standards seem even higher. We think we must work harder, live better, pray longer and witness to more people to get on God's good side. In his letter to the Galatians, Paul shows us the true source of our acceptance – Jesus Christ.
These eleven-session Bible studies on Galatians will help us know that we are worth much more to God than we can ever deserve or imagine!
Click to access each lesson's material.
Getting the Most Out of Galatians
NOVEMBER 23, 2022: NO BIBLE STUDY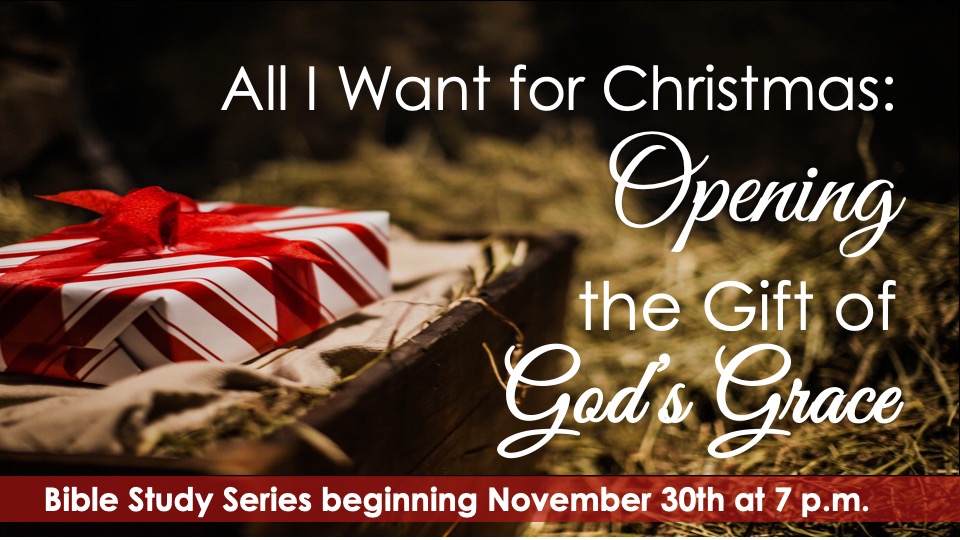 From the time the Wise Men came to bring gifts, Christmas has been a time of giving gifts to our loved ones, to the less fortunate, to the church, to favorite charities, to family, to friends, and even to our pets. In the best spirit of Christmas we give and receive Christmas gifts, remembering the greatest Christmas gift of all…God's gift of the Christ Child, God's gift to us of a Savior.
As we give and receive Christmas gifts, it is incredibly important to remember that the best Christmas gifts are wrapped in heaven. Unfortunately, sometimes we concentrate so much on the gifts we want to give to and receive from each other that we miss the special gifts Christmas has for us. Christmas has some amazing gifts for us, but the truth is that we need the miracle of God's grace to see them, feel them, hear them, wrap our arms around them, and celebrate them. This study asks a very personal question: "What are the gifts you would really like to receive from Christmas this year?" And that is what this study is all about: our thoughts and ruminations about the amazing, life-changing gifts Christmas has for us!
This Bible Study series will begin November 30th and end December 21st.
    1. The Gift of Good News (Matthew 1:18-25)
    2. The Gift of a New Understanding (Luke 1:39-56)
    3. The Gift of a Strong Foundation (Luke 2:1-20)
    4. The Gift of a New Style of Living (Matthew 2:1-18)

    No Bible Study on December 28, 2022