Christian Education
We want to be known as a learning church because we serve a God who invites us to know Him.
SUNDAY SCHOOL
Sunday School is now SATURDAY SCHOOL! | Saturday School conference calls are Saturdays at 9:00 a.m.
DIAL IN: 312-626-6799 | Access Code: 322476888
Spring 2023  Jesus Calls Us   Unit 3: The Birth of The Church
Our Heavenly Community
The work begun with Jesus' ministry and transformed by his death and resurrection continues in the community he chose: the church. The third unit takes us back to the earliest days of the church, which was and is God's instrument for the inbreaking of his kingdom. Jesus promised that the Holy Spirit would come (Acts 1:1–11); and ever since he did, God's kingdom has been transformed. Pentecost is one dramatic example of this (Acts 2). The same Spirit who empowered the disciples that day continued to work miracles for the sake of God's kingdom. These included healing (3:1–11), welcoming people into the community who had been excluded before (8:29–40), and recreating the heart of a man who zealously tried to destroy this emerging kingdom (9:9–17).
The gospel poses a threat to our ideas of status, esteem, security, and the way things ought to be. The Spirit was at work in the apostles and in the growth of the early church. And the Spirit remains at work in us, citizens of the kingdom of Heaven who continue to grow in faith, love, and hope.
Lesson 10   The Day of Pentecost  Acts 2:1–8, 14–24, 37–40
The descent of the Holy Spirit "like a dove" on Jesus at his baptism might suggest a picture of peace and acceptance (Luke 3:22). But the work of the Holy Spirit was not always a pleasant experience for those affected, since Jesus would baptize "with the Holy Spirit and fire" (3:16). Imageries of fire in the Bible are associated with the destruction of God's enemies (Ezekiel 22:17–22, 31; Hebrews 10:26–27; 2 Peter 3:7; etc.) and the testing or purification of his people (Zechariah 13:8–9; 1 Corinthians 3:12–13; 1 Peter 1:6–7). The depiction in Luke 3:16 speaks of the power to do both, especially in light of the "winnowing fork" imagery of Luke 3:17.
Lesson 11    Jumping for Joy  Acts 3:1–11
Acts 2:42–47 summarizes the ongoing activities of the just-birthed church in Jerusalem, which included miraculous displays after the Day of Pentecost. Those ongoing displays are described as being "many wonders and signs performed by the apostles" (Acts 2:43). Hebrews 2:4 confirms God to be the one who authenticated the truth of the gospel preaching by "signs, wonders and various miracles." Although miraculous healings obviously brought compassionate relief to the afflicted, their primary purpose was to validate the truth of Christianity in general and the person and work of Jesus in particular (see John 20:30–31). Today's lesson forms part of that larger tapestry.
Lesson 12   An Ethiopian Is Baptized   Acts 8:29–39
Acts 8:27–28 reveals several facts regarding the man whom Philip encountered in today's text.
First, he was from Ethiopia, a kingdom in Africa that is south of Egypt. This kingdom is also known as Cush (see Isaiah 11:11).
Second, he was a eunuch. Though some were born eunuchs or chose this status (Matthew 19:12), the word most commonly refers to a castrated man. Eunuchs were found in royal courts throughout the ancient world (compare 2 Kings 9:32; 20:18; Isaiah 39:7). The Greek historian Xenophon (430–355 BC) wrote that Cyrus the Great (about 600–530 BC; see Ezra 1:1; Isaiah 44:28–45:1; Daniel 1:21) preferred eunuchs in his court because he found them to be more reliable in general and trustworthy around women in particular. The Law of Moses restricted such men from participation in the assembly (Leviticus 21:16–23; Deuteronomy 23:1). One theory is that this individual had purchased a copy of Isaiah because of its promise of inclusion of eunuchs, those who sometimes described themselves as a "dry tree" (Isaiah 56:3–8).
Third, he was a servant to royalty. In particular, he served the queen of the Ethiopians as one having charge over the treasury. He was indeed a person of influence and wealth. He would have had to be wealthy to purchase a copy of Isaiah. The Great Isaiah Scroll, written in Hebrew and discovered among the Dead Sea Scrolls, measures about 9 inches in height and 24 feet in length!
Lesson 13   Saul of Tarsus   Acts 9:9–17 
We first meet Saul—later known as Paul, beginning in Acts 13:9—when he acted as a witness to the stoning of Stephen in Acts 7:58; 8:1 (see also 22:20). He is presented elsewhere as an ambitious young man who was building a career in the rabbinic tradition of Jerusalem and as a trusted servant of the temple officials and religious leaders (Galatians 1:14; Philippians 3:4–6). He could never have been a priest, because he was from the tribe of Benjamin rather than the priestly tribe of Levi (see Deuteronomy 18:1; Hebrews 7:5; etc.). But he could have become one of the greatest of the Pharisees, like his teacher Gamaliel (Acts 5:34; 22:3).
The climb up this career ladder accelerated when Saul oversaw a direct assault on the believers in Jerusalem, where he searched for them house to house and threw into prison those he found (Acts 8:3; 26:10). He apparently did effective work at that, for the high priest agreed to authorize him to go to Damascus to find Christians and bring them back to Jerusalem for trial and punishment (9:1–2; 22:19; 26:9–11). His ambitious trip to Damascus was the occasion of the resurrected Jesus appearing to Saul and asking, "Why do you persecute me?" (9:4).
BIBLE STUDY
Youth Bible Study| Tuesdays at 6:00 p.m. on Zoom. Login information may be found here.
Adult Bible Study |  Wednesdays at 7:00 p.m. on Zoom. To join virtual Bible Study please visit Zoom.us and enter Meeting ID: 802 973 031  To join by phone, dial 312-626-6799 and enter Meeting ID: 802-973-031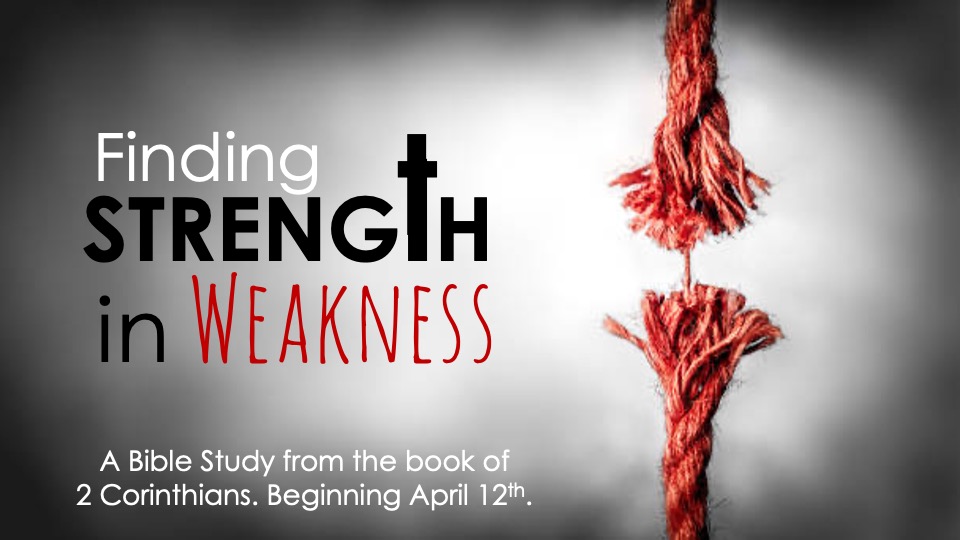 Do you despise your weaknesses?
Do you hate hardships?
Do you beg God to remove obstacles from your life?
The apostle Paul delighted in his weaknesses, welcomed hardship as a friend and thanked God for obstacles that offered opportunities to experience God's power. Was he crazy?
In this eleven-session Bible Study, you will discover how this foundational Christian disciple and church leader will turn your thinking upside down!
In everything, Paul teaches you to rely (as he did) on God's great promise: "My grace is sufficient for you."
This bible study begins April 12, 2023 and ends June 21, 2023. Click to access each lesson.