Christian Education
We want to be known as a learning church because we serve a God who invites us to know Him.
SUNDAY SCHOOL
Sunday School is now SATURDAY SCHOOL! | Saturday School conference calls are Saturdays at 9:00 a.m.
DIAL IN: 312-626-6799 | Access Code: 322476888
Spring 2023  Jesus Calls Us  Unit  1: Called from the Margins of  Society
What does it mean to be a citizen of the kingdom of Heaven? The lessons this quarter explore some of the most basic principles of Christian faith: that Christ's invitation is open to all people, that his resurrection changed everything, and that those who put their faith in Jesus and anticipate their own resurrections are Jesus' chosen community. These truths have much to reveal about what it means to live in the kingdom of Heaven, both in the present and in the glorious future we anticipate.
The setting of the Quarter: Roman and Jewish Margins
The Roman Empire was vast, and distance from its central city in many ways correlated with distance from its cultural heart. Devout Jews, especially those who resisted adopting Greco-Roman culture or continued to reside in the region that had been ancient Israel, were looked down on by their pagan neighbors. Jewish traditions such as circumcision, Sabbath-keeping, and ritual cleanliness laws were considered silly, even offensive, to Romans.
Jews from Galilee—like Jesus and several of his disciples—were marginalized even by fellow Jews who wielded influence from Jerusalem. Galilean Jews were seen as uneducated bumpkins in the urban center of Jerusalem (see John 7:41, 52; Acts 2:7–8). And their proximity to the Gentiles who settled in the region made these Jews only more suspect to Jerusalem's religious elite.
By the first century AD, many Gentiles had settled in Galilee (see Matthew 4:15). Strong Gentile cities such as Tiberias exerted influence throughout the region. Tiberias had become the capital city of Herod Antipas, the ruler of Galilee. The first-century Jewish historian Josephus records that Tiberias was built on a graveyard, perhaps a deliberate ploy by Antipas to discourage Jews from entering or settling in the city (see Numbers 19:11).
Open to All
Our first unit highlights accounts in which Jesus disregarded artificial societal barriers, choosing instead to reach people on the margins. Emotions, biases, and ignorance can stand in the way of accepting people as Jesus did. But the welcome of the prodigal son in Jesus' parable (Luke 15:11–24) sets the scene for all sorts of surprising people who can find their place in the kingdom of Heaven. Humble children (Matthew 18:1–9), foreigners, women, and even the formerly demon-possessed (Mark 5:1–13, 18–20; John 4) can find their place within Jesus' community.
How often are we unable to hear God's call, to perceive God's choice, because we are blinded by our own incomplete knowledge and conditional love? These lessons call us to examine our hearts and motives in order to see who we might think to be excluded from the kingdom … but whom Jesus himself has called to join him.
Lesson 1   The Prodigal Son   Luke 15:11–24
At their core, biblical parables compare something familiar—like an object or experience—to a truth about God and his work. Parables function on two levels: their literal reference and their spiritual implications. Jesus taught with parables to challenge his audience to consider what assumptions or attitudes of theirs were at odds with God's work (compare Matthew 13:10–15).
Today's Scripture is frequently called the parable of the prodigal son. While modern audiences sometimes use the designation "prodigal" to speak of the rebellion of the younger son, the word's meaning is associated with reckless waste and spending.
Lesson 2   The Greatest in the Kingdom  Matthew 18:1–9
By the time of today's text, Jesus' disciples had witnessed his divine power through his acts of healing (Matthew 14:35–36) and exorcism (15:21–28; 17:14–18), miraculous provision (14:15–21; 15:32–38), and control over creation (14:22–33). The apostles Peter, James, and John witnessed Jesus' power personally as they observed Jesus transfigured before them (17:1–13; Mark 9:2). Later, Peter interpreted the transfiguration as showing Jesus' divine honor and glory (2 Peter 1:16–18). In that event, God's power was revealed in and through Jesus Christ.
Lesson 3   Jesus Talks with a Samaritan   John 4:7–15, 28–30, 39–41
As our text in John 4 begins, Jesus and his disciples had left Judea and were heading to Galilee (John 4:3), where he made the headquarters of his ministry (Matthew 4:13–16). For this journey, Jesus chose not to take one of two longer routes that would allow him to avoid Samaria (John 4:4), as some other Jews would do (compare and contrast Luke 9:51–53; 17:11). Samaria was the central region of what had been the kingdom of Israel, with Judea to the south and Galilee to the north. Travel between Jerusalem and the region of Galilee would take about three days on the reliable Roman roads that ran through Samaria.
Lesson 4    Jesus Overpowers Legion   Mark 5:1–13, 18–20
Many theories have been proposed for this counterintuitive command to silence. One such is that Jesus did not want the people to become invested in wrong ideas about what it meant for him to be the Messiah. While the people were looking for a political Messiah to deliver them from Roman imperialism, Jesus used the time of secrecy to teach about the larger role of the Messiah—beyond Israel and its politics. Jesus also wanted his ministry to be defined as a preaching and teaching ministry more than a healing and miracles ministry (Mark 1:35–39). The constant needs of people around him and of crushing crowds looking for healing could have taken all his time if Jesus had not guarded it carefully. His preaching ministry was supported by the miracles, not the other way around. This suggests an element of crowd control (see 1:43–45).
The account of the Gadarene demoniac occurs during Jesus' preaching ministry in Galilee. This story is in a section of Mark that contains several other accounts focusing on Jesus' power and authority (see 4:35–41; 5:21–34).
BIBLE STUDY
Youth Bible Study| Tuesdays at 6:00 p.m. on Zoom. Login information may be found here.
Adult Bible Study |  Wednesdays at 7:00 p.m. on Zoom. To join virtual Bible Study please visit Zoom.us and enter Meeting ID: 802 973 031  To join by phone, dial 312-626-6799 and enter Meeting ID: 802-973-031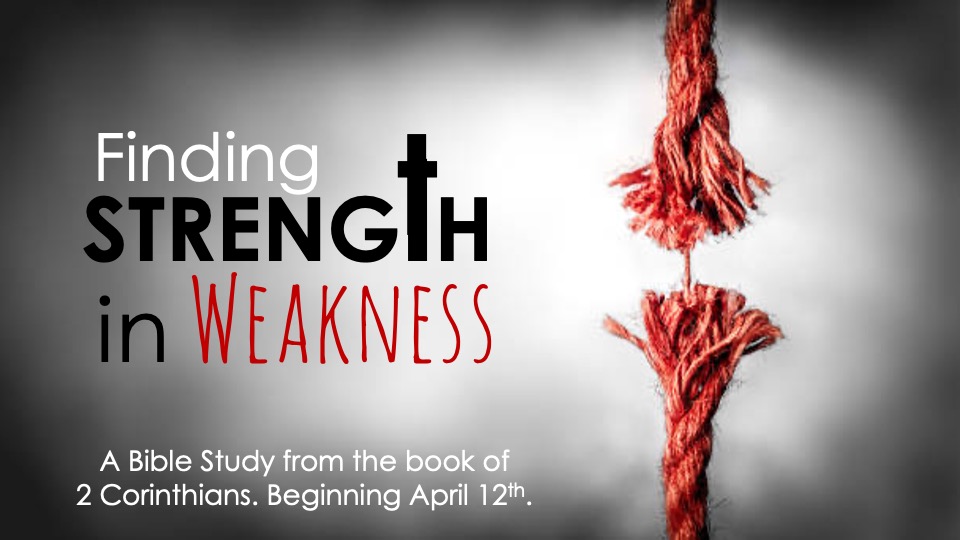 Do you despise your weaknesses?
Do you hate hardships?
Do you beg God to remove obstacles from your life?
The apostle Paul delighted in his weaknesses, welcomed hardship as a friend and thanked God for obstacles that offered opportunities to experience God's power. Was he crazy?
In this eleven-session Bible Study, you will discover how this foundational Christian disciple and church leader will turn your thinking upside down!
In everything, Paul teaches you to rely (as he did) on God's great promise: "My grace is sufficient for you."
This bible study begins April 12, 2023 and ends June 21, 2023. Click to access each lesson.
6. Good Grief (2 Corinthians 6:14 – 7:16)
7. The Need to Give (2 Corinthians 8 – 9)
8. Spiritual Warfare (2 Corinthians 10)
9. Super-Leaders (2 Corinthians 11)
10. My Burden Carries Me (2 Corinthians 12)
11. Examine Yourselves (2 Corinthians 13)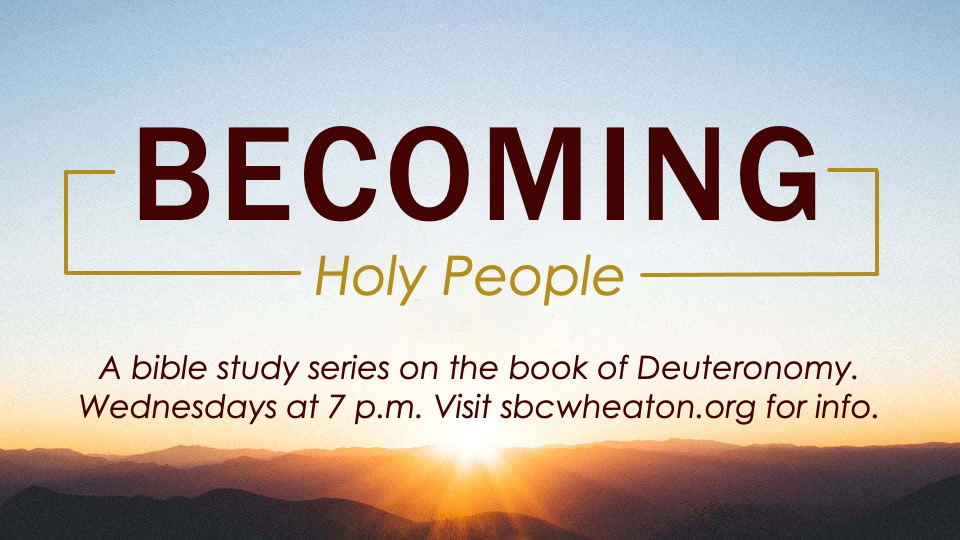 Do you long to experience God's presence in your life?
In this twelve-session Bible Study, you 

will be led 

to explore the story told in Deuteronomy

 

—

 

the story of God's people seeking after him. As you trace their journey, experiencing their forward progress, their detours, and their obstacles, you, too, will learn to follow God more closely.
Click to access each lesson.