REV. KEVIN WILLIAMS
Senior Pastor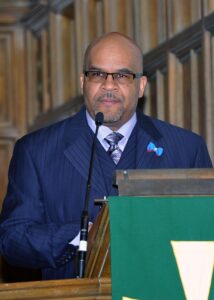 Rev. Kevin Williams is a graduate of Eastern Illinois University in Charleston, Illinois from which he holds a Bachelor of Science degree in Economics. He also attended the Northern Baptist Theological Seminary in Lombard, Il and the McCormick Theological Seminary in Chicago, Illinois from which he is seeking a Master of Divinity degree.
Rev. Williams served as Associate Pastor at the Progressive Baptist Church of Aurora, Il. where he established the Senior Saints Ministry and New Member Orientation. His ministry responsibilities included the Music Department, Christian Education Department, and the Adult Ministries Department. Rev. Williams' ministry journey began in 1991 at the Shiloh M.B. Church where he was licensed to preach and teach the gospel by Rev. Jimmie L. Daniels. He was ordained as a minister in 1994 at Shiloh also.
Rev. Williams is committed to Intergenerational ministry and a life application gospel message. His passion for academic excellence has never wavered. Evidence of this abounds in the many roles he has assumed as part of the Pastoral staff at Progressive Baptist. He is also a member of the Alpha Phi Alpha Fraternity.
Born in Chicago, Illinois, Rev. Williams is the son of Mr. Archie and Mrs. Jewel Williams of Plainfield, IL. He is the husband of Loretta Williams, they have been married 28 years and the fruit of their love has produced 3 wonderful children: Joshua, Jonathan, and Jaalah; and 2 grand children: Serenity and Adelyn.
REV. JASON HARRELL
Youth Pastor
Youth Ministry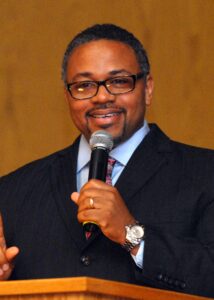 Rev. Jason Harrell is enthusiastic and energetic when it comes to teaching the people of God. Rev. Jason Harrell believes in the power and authority of God's word to change people's lives and bring deliverance. His love for the gospel and love of teaching the full counsel of the word of God is felt whenever he speaks. He received his Computer Science education from Southern Illinois University in Edwardsville, Illinois.
Rev. Jason Harrell currently serves on the ministerial staff at Second Baptist Church of Wheaton where he is Youth Pastor. Over the years his ministry responsibilities have included being a member of the Deacons' Ministry, Sunday School teacher and Superintendent, Area leader, mid-week bible study teacher, and Outreach and Evangelism Director.
Rev. Jason Harrell has been married to his lovely wife, Melinda Harrell, for 20 years. They have four blessed children: Karena, Christian, Sophia, and Hannah and one grandson, Nazir.
Isaiah 61:1
The Spirit of the Lord God is upon me; because the Lord has anointed me to preach good tidings unto the meek; he hath sent me to bind up the broken hearted, to proclaim liberty to the captives, and the opening of the prison to them that are bound.
REV. CELESTE JARRETT
Associate Pastor
Congregational Care Ministry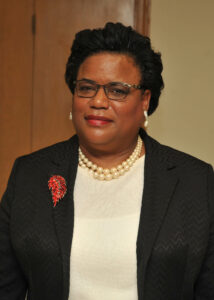 Reverend Celeste Jarrett is an Associated Minister that joined the ministerial staff of SBC in 2010. A spiritually gifted biblical counselor, ministerial teacher, and solo vocalist. Rev. Jarrett leads our Congregational Care Ministry, which oversees the spiritual care of SBC's members. She has the overall responsibility to counsel the ministries that serve SBC, (Grief & Loss, Benevolence, Family Ministry, Shepherd's Ministry, and Biblical Counseling). Reverend Celeste completed her BA in Management from North Central College in Naperville, IL and her Masters of Divinity degree at Northern Baptist Theological Seminary in Lombard, IL.
She brings to the ministerial staff a vast knowledge of managerial leadership where she served with the DuPage County Branch of NAACP & the NAACP's ACT-SO (Afro Cultural Technological Scientific Olympics) mentoring program. Rev. Celeste is the Director of Operations with JUST of DuPage, a non-profit organization specializing in meeting the spiritual, educational, and addiction needs of inmates incarnated in the DuPage County jail. She is the wife of Deacon Frank Jarrett and they have two children, Ronald and Crystal.
REV. DIANE JONES
Associate Pastor
Prayer Ministry

Reverend Diane Jones confessed her hope in Christ at the tender age of 5, for 23 years she cultivated her relationship with Christ, in 1988 while singing at a musical" I can't hold back this joy I share with thee" she received a revelation from Christ that she was to fully live her life for him. She confesses she has always been church but church wasn't always in her, from that Holy Ghost encounter until this day she has become a GOD chaser. During prayer intercession in 2006 she heard to voice of Jesus to declare the Gospel, she again in the fall of 2006 was given another God revelation to tell them that "He is coming back".
In September 2001 after many years of wanting to deepen her relationship with GOD and work in the vineyard led her to an SBC Bible Study class "Experiencing God", being a non- member at the time, she felt so loved and at peace in this ministry she decided to move her membership from her Chicagoland church to join the SBC family. Rev. Jones accepted her call into Ministry in the fall of 2012. Rev. Diane Jones currently serves as an Associate Minister Second Baptist Wheaton as Leader of the Intercessory Prayer team and Prayer Ministry Area Leader. Rev. Jones is responsible for expanding the prayer ministry since its exception in 2013 and has successfully cultivated and created multiple prayer opportunities for the body of Christ by implementing a prayer line and several prayer initiatives throughout the year. Rev. Diane is a Sunday school and Bible Study teacher to the Adult classes at SBC.
Reverend Diane Jones is a graduate of Dabney University, Hammond, IN where she holds a Bachelor of Arts Degree in Business; she holds an Associate's Degree in Health information Technology College of DuPage. She is a Program & Management Analyst for the Department of Veterans Affairs. Reverend Diane is married to Mr. William L Jones, and is the proud mother of Aiyonna L Dickerson, and is the proud grandmother of one grand-daughter Amaree L Smith.
Favorite scripture: Isiah 40:31 But they that wait upon the LORD shall renew their strength; they shall mount up with wings as eagles; they shall run, and not be weary; and they shall walk, and not faint.